DescriptionEdit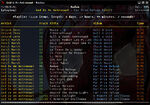 A complete fully featured curses client. Ncmpcpp is very similar to  ncmpc if it comes to user interface, but it provides a lot of new useful features.
Main new features:
tag editor
playlist editor
easy to use search engine
media library
music visualizer
ability to fetch artist info from last.fm
new display mode
alternative user interface
ability to browse and add files from outside of MPD music directory

Homepage: http://ncmpcpp.rybczak.net/
Screenshots: http://ncmpcpp.rybczak.net/screenshots.php
Download: http://ncmpcpp.rybczak.net/download.php
Latest stable version: 0.6
Development Download: git://repo.or.cz/ncmpcpp.git
Description: A featureful ncurses based MPD client inspired by ncmpc.
Maintainter: unK
Ad blocker interference detected!
Wikia is a free-to-use site that makes money from advertising. We have a modified experience for viewers using ad blockers

Wikia is not accessible if you've made further modifications. Remove the custom ad blocker rule(s) and the page will load as expected.