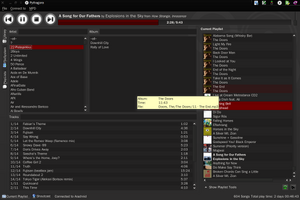 The main goal of Pythagora is offering usability while not limiting the user in his or hers options. It aims to have zero configuration, although some things just need to be configured. Most preferences are just remembered over sessions so there is no hassle reconfiguring if your habits might ever change.
It Uses three panels to display the music library. This makes finding songs quick and efficient. You can drag any song, album or artist from here to the current playlist. You can also drag them, via the tabs on the left, to a stored playlist or create a new one. If the cover images for the playlist can't be found locally they are downloaded from the web. First the music directory will be searched for a folder.jpg. If this file is not found it looks in the local cache, if no image is found here the last.fm api is used to get an image form the web.
Pythagora is written in python and Qt4, for some functionality Pythagora relies on PyKDE4. This is mainly for the clear buttons on text boxes and themed icons. It runs without KDE and use a default icon set.
   * Library browser
   * File system browser
   * Playlist manager
   * Drag and drop on almost anything
   * Cover art in the playlist
       local or from the web 
   * ShoutCast browser
       not complete yet but working
   * Configure multiple servers
   * Connect to password protected servers
       Passwords are stored per server
       unfortunately in plain text for now.

   * PyQT4 (>= 4.5)
   * PyKDE (optional but recommended)
   * python-mpd
   * python 2.6

Ad blocker interference detected!
Wikia is a free-to-use site that makes money from advertising. We have a modified experience for viewers using ad blockers

Wikia is not accessible if you've made further modifications. Remove the custom ad blocker rule(s) and the page will load as expected.