QMobileMPD
Edit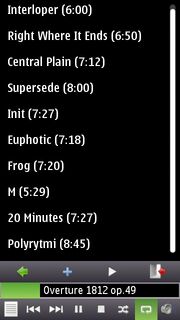 Home Page: http://code.google.com/p/qmobilempd/
Latest Version: 1.0.6 - 29.04.2011
Maintainer(s): Hendrik Borghorst
Description: This is a minimal mpd client with mobile devices,like Nokias Symbian and Maemo devices, which can run qt applications in mind. So it works without external libraries. While it works on a normal PC the userinterface is designed with smartphones in mind.
Features:
Add Albums,Artists,saved Playlists, Files and directories
optimized for mobile devices like symbian (kinetic scrolling, low memory profile)
Save/load playlists
multiple server profiles

Downloads: http://code.google.com/p/qmobilempd/downloads/list

changelog:
Version 1.0.6 (29.04.2011)
-Changed network update delay if mobilephone was in screensaver mode
-If you go backwards in browse history, scroll state is saved.
-Code changes for enhanced compability with qmpdplasmoid (ui_contextview.cpp,h) 

Version 1.0.5 (15.04.2011)
-Current playing song info. Select via menu or tap on current track in playlist
-Network bugs fixed (network streams not shown, thanks to user Murz on kde-look.org)
-streamlined

Version 1.0.3 (14.03.2011)
-Changed kinetic scrolling from flickcharm to qskineticscroller (much smoother)
-Code cleanup
-Font changes only for symbian devices
-Leave fullscreen mode for dialogs (needed for qt 4.7)
-Current View indicator label on top
-Bugfix for volume slide at 0% after play track from album
-Bugfix for missing songs in playlist with length=0seconds.
-version bump (compability with symbian)
-german translation added
-application icon fix for symbian
-version number fix for symbian

Version 0.0.2 (08.03.2011)
-Fixes last minute relase bugs with repeat shuffle buttons.

Version 0.0.1 (08.03.2011)
-First public release

Ad blocker interference detected!
Wikia is a free-to-use site that makes money from advertising. We have a modified experience for viewers using ad blockers

Wikia is not accessible if you've made further modifications. Remove the custom ad blocker rule(s) and the page will load as expected.