Ad blocker interference detected!
Wikia is a free-to-use site that makes money from advertising. We have a modified experience for viewers using ad blockers

Wikia is not accessible if you've made further modifications. Remove the custom ad blocker rule(s) and the page will load as expected.
QMobileMPD
Edit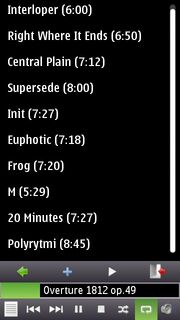 Home Page: http://code.google.com/p/qmobilempd/
Latest Version: 1.0.6 - 29.04.2011
Maintainer(s): Hendrik Borghorst
Description: This is a minimal mpd client with mobile devices,like Nokias Symbian and Maemo devices, which can run qt applications in mind. So it works without external libraries. While it works on a normal PC the userinterface is designed with smartphones in mind.
Features:
Add Albums,Artists,saved Playlists, Files and directories
optimized for mobile devices like symbian (kinetic scrolling, low memory profile)
Save/load playlists
multiple server profiles

Downloads: http://code.google.com/p/qmobilempd/downloads/list

changelog:
Version 1.0.6 (29.04.2011)
-Changed network update delay if mobilephone was in screensaver mode
-If you go backwards in browse history, scroll state is saved.
-Code changes for enhanced compability with qmpdplasmoid (ui_contextview.cpp,h) 

Version 1.0.5 (15.04.2011)
-Current playing song info. Select via menu or tap on current track in playlist
-Network bugs fixed (network streams not shown, thanks to user Murz on kde-look.org)
-streamlined

Version 1.0.3 (14.03.2011)
-Changed kinetic scrolling from flickcharm to qskineticscroller (much smoother)
-Code cleanup
-Font changes only for symbian devices
-Leave fullscreen mode for dialogs (needed for qt 4.7)
-Current View indicator label on top
-Bugfix for volume slide at 0% after play track from album
-Bugfix for missing songs in playlist with length=0seconds.
-version bump (compability with symbian)
-german translation added
-application icon fix for symbian
-version number fix for symbian

Version 0.0.2 (08.03.2011)
-Fixes last minute relase bugs with repeat shuffle buttons.

Version 0.0.1 (08.03.2011)
-First public release