qmpdplasmoid
Edit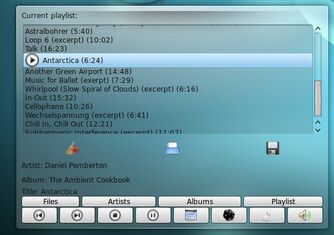 Home Page: kde-look.org
Latest Version: 0.0.1 - 01.04.2011
Maintainer(s): Hendrik Borghorst
Description: This is a minimal mpd client directly for use in plasma shell. Feature compatible with qmobilempd. (shares a lot of code)
Features:
Add Albums,Artists,saved Playlists, Files and directories
kinetic scrolling
Save/load playlists

Downloads: 140412-qmpdplasmoid-0.0.2.tar.gz

changelog:
Version 0.0.1 (01.04.2011)
-First public release

Ad blocker interference detected!
Wikia is a free-to-use site that makes money from advertising. We have a modified experience for viewers using ad blockers

Wikia is not accessible if you've made further modifications. Remove the custom ad blocker rule(s) and the page will load as expected.