Client:Quimup
Talk

0
514pages on
this wiki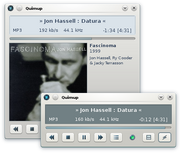 Home Page: coonsden.com
Latest Version: 1.3.1 - December 03, 2013
Maintainer(s): Johan Spee
Description: QUIMUP is a graphical client for the music player daemon (MPD) written in C++ and QT4. The program can be used with most Linux desktops (KDE, GNOME, XFCE) and is covered by the General Public License. It superseedes the (GTK-based) Client:Guimup, which is now obsolete.
The clean interface makes controlling MPD's many features easy and intuitive. The focus is on mouse handling (playlist management by drag-'n'-drop). Playback functions are directly accessible from the system tray.
Other features:
Supports album art (stored locally).
Supports audio streams.
Songs can be listed in several modes: directories, artists, albums, genres and playlists.
Songs can be searched by title, album, artist or genre.
Availability and information:
Changes:
Latest changelog (Version 1.3.1, December 03, 2013):
Added: Support for the 'Disc Number' tag.
Added: Stream loader can handle compound urls better.
Added: Manually override MPD's (remote) music dir.
Fixed: Crash upon calling mpd_return_pair (Archlinux).
Fixed: Player changed position after hide-show toggle.
Fixed: Allow more time to connect to MPD at start-up.
Fixed: Possible wrong sorting order of dragged items.
Coded: Project 'includes' libmpdclient using pkg-config.
Historical changes: