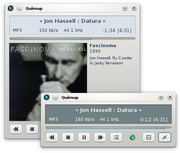 Home Page: coonsden.com
Latest Version: 1.4.0 - March 2014
Maintainer(s): Johan Spee
Description: QUIMUP is a graphical client for the music player daemon (MPD) written in C++ and QT5. The program can be used with most Linux desktops (KDE, GNOME, XFCE) and is covered by the General Public License.
The clean interface makes controlling MPD's many features easy and intuitive. The focus is on mouse handling (playlist management by drag&-drop). Playback functions are directly accessible from the system tray.
Other features:
Supports album art (embedded or from file).
Supports audio streams.
Songs can be listed in several modes: artists, albums, genres, year, time-stamp, folder.
Songs can be searched by title, album, artist or genre.
Support for 'media keys'.
Availability and information:
Changes:
Latest changelog (Version 1.4.0):
Coded: Migrated the code to QT5
Fixed: After changing colors wrong album-art could be shown.
Added: Use embedded cover art from asf and ape-tagged mp3.
Historical changes:
Ad blocker interference detected!
Wikia is a free-to-use site that makes money from advertising. We have a modified experience for viewers using ad blockers

Wikia is not accessible if you've made further modifications. Remove the custom ad blocker rule(s) and the page will load as expected.