RMPDC :: Light-weight web client for handled systems
Edit
Website: http://www.desfrenes.com/blog/post/commander-mpd-avec-son-palm-pocket-pc-smartphone
Short Description: RMPDC is a web client with very low browser requirements. No Javascript needed.
Supported Functionality: Playback, basic search and basic playlist management.
Setup Instructions: just download the sources from the page and run on any PHP-enabled server (PHP5.3 minimum).
Author: Mickaël Desfrênes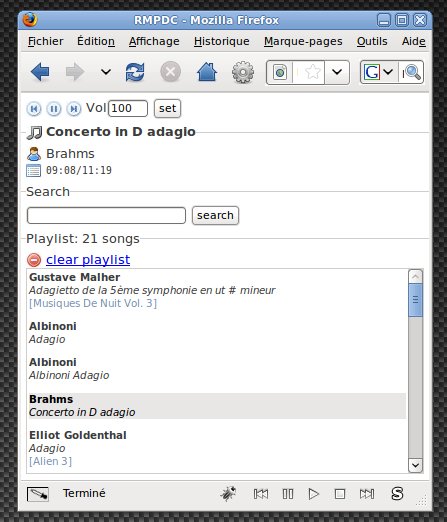 Ad blocker interference detected!
Wikia is a free-to-use site that makes money from advertising. We have a modified experience for viewers using ad blockers

Wikia is not accessible if you've made further modifications. Remove the custom ad blocker rule(s) and the page will load as expected.