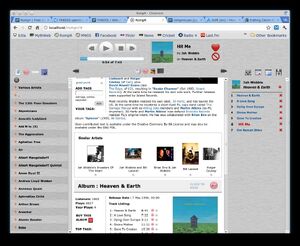 Rompr is a heavyweight client that runs in a web browser. It uses PHP and Javascript. Should run in any modern browser - I've tested Chrome, Chromium, Firefox, and Safari, and also the iPad 2.
It has support for Local music playback, Last.FM radio (including all your stations, freinds, neighbours, tags, genres and artists), BBC radio playback (if available in your country) IceCast radio, and soma fm. It does Last.FM scrobbling and autocorrect as well as Love and Ban.
It has a powerful collection scanner that sorts your music by Artist and Album regardless of the directory structure on your hard disc. Useful for disorganized people! You can also choose to browse your directories directly if you like.
Its main feature is heavy Last.FM integration - the central information panel gives you biographies of the band you're listening to as well as links for related artists and related last.FM radio stations. You can also choose to view information from Wikipedia or a slideshow of artist images.
RompR features album art support - both automatically grabbing images from last.FM and using local images you can select from your drive or a Google images search.
If you want 'Amarok in a web browser' then mpd+RompR might be what you're looking for!
Download : https://sourceforge.net/projects/rompr/
Ubuntu PPA : http://launchpad.net/~fatgerman-m/+archive/rompr

Requirements : Apache, php, imagemagick (for album art)
Ad blocker interference detected!
Wikia is a free-to-use site that makes money from advertising. We have a modified experience for viewers using ad blockers

Wikia is not accessible if you've made further modifications. Remove the custom ad blocker rule(s) and the page will load as expected.